When we were living in Laos I took Loki on a surprise birthday trip to Seoul. We basically ate every vegetarian thing we could find and went to the bath house every day. Loki had been to Japan a few times so he was fairly familiar with the communal bathing thing but it was a totally new situation for me.
We went to the Siloam Spa upon the recommendation of our mate Anou, he was pretty jacked about all the different rooms. He told me a story about some horrible sounding 60 degrees room with foot destroying rocks everywhere and an ice room. I had no idea what he was talking about and the website was baffling but it looked fancy and we are very fancy so of course we went.
When we arrived at the spa were handed two small orange towels, orange fisherman pants and shapeless shirts and sent into our gendered bathrooms. We could reunite on the second floor to visit the rooms in our orange uniforms or head into the same sex bathing areas downstairs. There was also a weird little gym with a rubber band machine that you put around your body and just stand there vibrating. There was also a machine which seemed like it's sole purpose was to turn you upside down for a while.
I eventually made my way into the bathing area, I wasn't sure what the etiquette was, some women were fully naked some were partially clothed in their underwear and pretty much everyone had an orange towel adorning their heads. I stripped down to my underwear and loitered around near the entrance to the bathing room trying to see what other people were wearing or not wearing. I noticed the 'massage' area which was action packed, women were lying on stretcher beds whilst other women vigorously slapped, kneaded and hosed them down. While one of the elderly attendants shot me suspicious looks I gingerly removed my underwear and crept into the bathing area. It was super wholesome and reminded me of the aquatic centre in Adelaide. Women of all ages were marching around, scrubbing each other and carrying tubs full of toiletries and salt (?). I stood under a shower for a while surveying the scene and eventually decided to get my own tub and fill it up with salt. I carried it around to a few different flavoured and temperatured baths and put one of my towels on my head.
I was really struck by how normal it seemed, everyone was so comfortable, kids were running around, women were scrubbing their elderly mothers and periodically strolling over to the salt station for a refill. I couldn't get over the colours and perspective of the scene, so many orange towels, square bathing pools, columns and showers in pastel turquoise and dark blue tiles and black hair.
I got in trouble when I left the bathing area and tried to walk back to the change rooms. I wasn't meant to step off the drying mat until I was dry, I had stepped off the mat and left a trail of conspicuously large wet footprints across the room. The attendant herded me back onto my corner and started mopping up my terrible mess with a towel.
I was compelled to paint a picture, for some reason it had to be a huge picture, so I went and bought a 2 by 2 metre bit of canvas as soon as I got back to Laos. I like small sections of it better than the overall effect, I wanted to keep it fairly under developed but got a bit carried away in some areas. I noticed a lot of art in Wats (temples) around Vientiane used bright orange outlines and really wanted to give that a crack.
When we left Laos I didn't know what to do with it so I rolled it up and shoved it in a trash fire.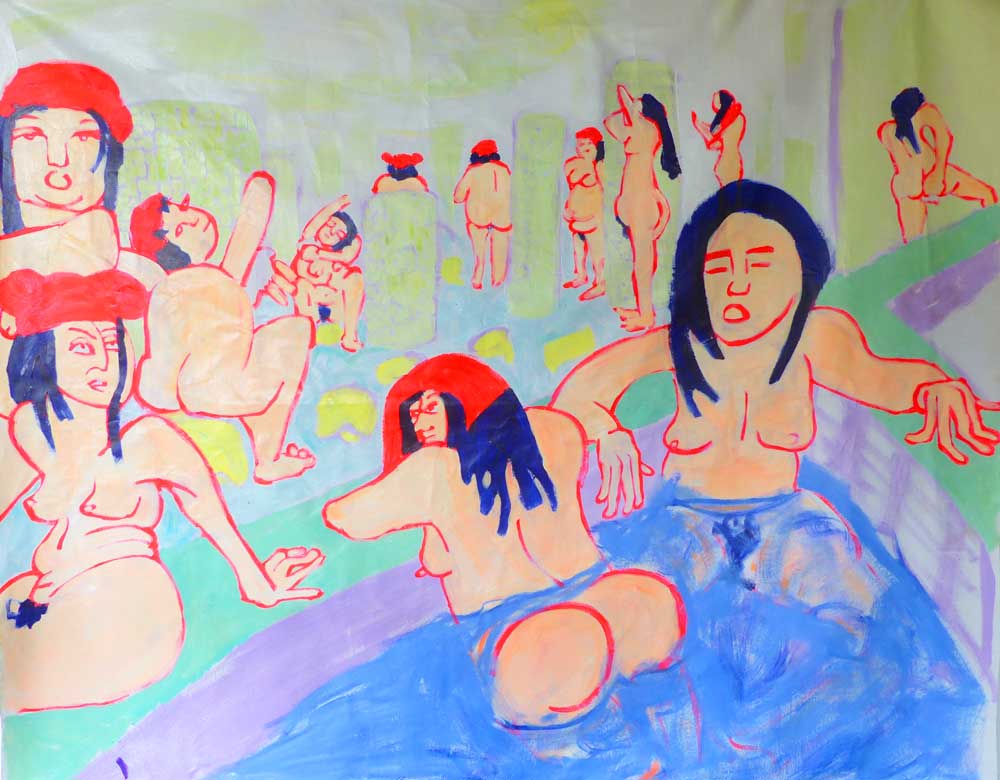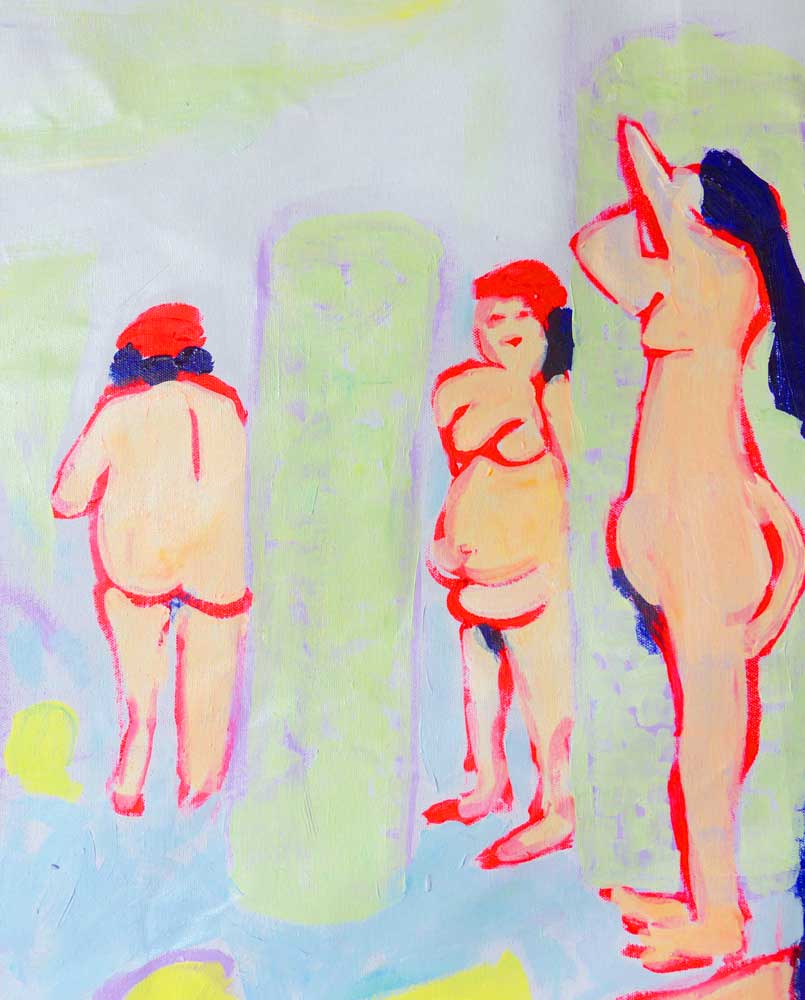 These two crops are my favourite areas, I think these little snippets most accurately capture the vision I had in my head.